上記の広告は1ヶ月以上更新のないブログに表示されています。
新しい記事を書く事で広告が消せます。
___________________________
Hello !

I am Masai, living in Osaka and loving Osaka food.
I have a blog site named "Gurume to Tabi playback" which means playback of my gourmet and travel memories.  It is very unfortunate for most of the foreign travelers because that blog is completely written in Japanese. So I provide you some tips for the satisfied gourmet life in Osaka here in English from now on.

First of all, there are some introduction for Japanese food.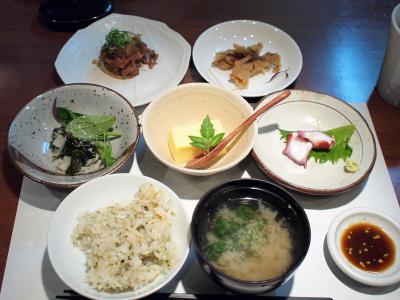 Wasyoku
, real Japanese cuisine.
This picture is a lunch set of Japanese restaurant "
Sakae-ya
" in Kita-Shinchi.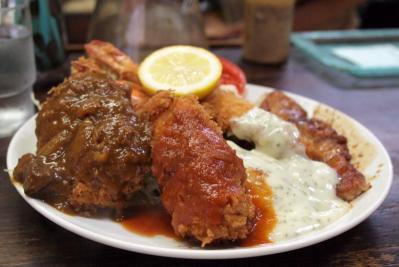 Yoshoku
, Japanese cuisine but originally come from western countries.
This picture is a lunch plate served at Yoshoku restaurant "
Tommy Part 2
" in Sakai-city.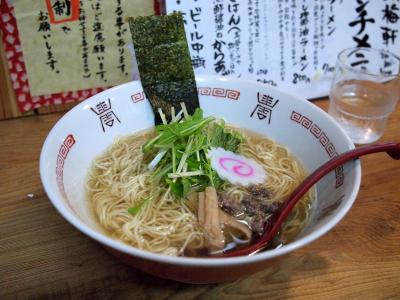 Ramen
, originally from China but much developed in Japan.
This picture is a ramen with horse-bone based soup served at "
Tanbai-ken
" in Tenma.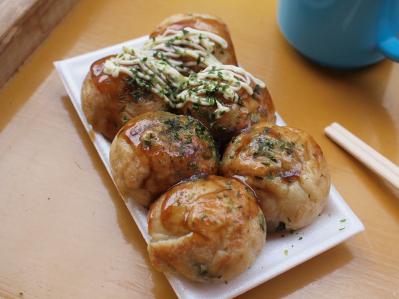 Takoyaki
, a very famous junk-food in Osaka area.
These takoyaki were sold at very small takoyaki shop named "
Tachan
" in downtown Sakai.
スポンサーサイト
___________________________
テストです。
___________________________
You can see larger pics by clicking or tapping on the picture.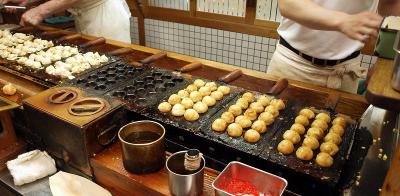 As you may know,
Takoyaki
is one of the most popular Osaka cuisine. In this article, I do not explain takoyaki itself. If you do not know much about takoyaki, then please see
Wikpedia
.
Many Osaka people have their own "takoyaki-ki" which is a kind of special cooker of takoyaki in their home.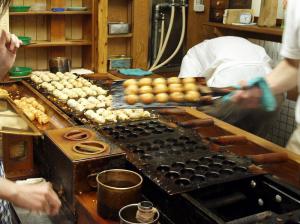 When you come to Osaka area, many foreign people will be surprised to find many Takoyaki
Yatai (wiki)
everywhere in the city. And at some of those
Yatai
, there may be long waiting que for buying takoyaki. It is also surprising for Osaka people.
Even there are many takoyaki yatai in the city, the taste of takoyaki are different.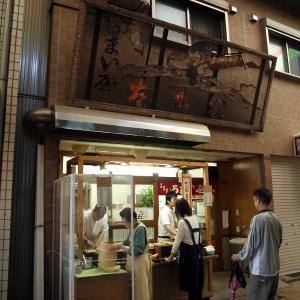 Today I will introduce one of my favorite takoyaki restaurant. This is not takoyaki yatai but takoyaki restaurant.
The name is "Umai Ya" / "うまい屋"
The direct meaning of this Japanese name "Umai Ya" is "delicious house". At this restaurant, you can buy and take them away as usual takoyaki yatais. And also you can eat them in this restaurant. You will enjoy eating takoyaki in the restaurant.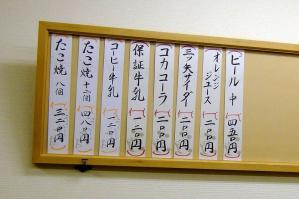 When you enter this restaurant,  you will find the menu on the wall.  For the people who do not understand Japanese Kanji, I will translate them from the left to right.
Please click the menu above and print it as your order sheet.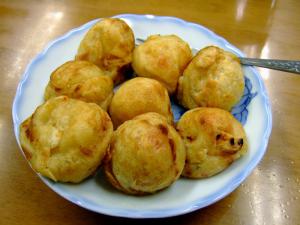 I'm afraid English is not available in this restaurant. So if you would like to order Takoyaki 8 balls, then ask as follows,
Takoyaki hachi ko onegai shimasu.
This sentence means, " Eight takoyakis please " After a few minutes, takoyaki will be served for you. Unfortunately, if there is no takoyaki on the teppan plate, you must wait around ten minutes or more.
The special feature of takoyaki in Umai-ya is to eat takoyaki without any sauce. It is very rare case in Osaka takoyaki world.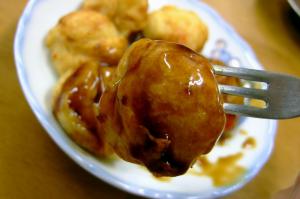 But you will find takoyaki sauce on the table, you may eat takoyaki with sauce if you would like. You can enjoy takoyaki of Umai-ya in two ways !
If you would like to enjoy Japan's unique drink, then please try "Coffee Milk (bottled) 120 yen". Coffee Milk looks like cafe au lait but the taste is different.
How to order is "Ko-hi Gyunyu kudasai"
Don't say "coffee" but "Ko-hi" !
If you have time after Umai-ya takoyaki, please enjoy shoping in "
Tenjinbashi-suji Shoten-gai(天神橋筋商店街)
". Tenjinbashi-suji Shoten-gai is the longest shopping arcade in Japan. You will find many many Japan's unique shops and restaurant there.
Enjoy Osaka.
More photos here (in Japanese)
 -Umai-ya
 -Takoyaki-tour
----------------------------
[Restaurant] Umai Ya
[Category] Takoyaki
[Address] 4-21 Naniwacho, Kitaku Osaka city, Osaka
[Station] Tenma-eki of JR Kanjosen or Tenjinbashisuji 6 chome station of subway Sakaisuji-sen.
[Phone] 06 6373 2929
[Open] 11:30 - 19:00 (close earlier when sold out)
[Fixed holiday] Closed on every Tuesday
[Language] English is NOT available. (Only Japanese)
----------------------------
View Larger Map
___________________________